Often times we can get caught up in making sure our special day is perfect in our eyes and forget about our guests.  We need to remember our guests because they do take the time out of their day to celebrate our once-in-a-lifetime moment with us.  And, it can't often be a complicated and expensive process for them to arrange to attend our weddings, especially if it is a destination wedding.  Here are different ways to involve your guests during the big day and make sure they have a memorable guest experience!
1). A photo booth!  Everyone loves a photo booth!  This will give your guests an activity to do during cocktail hour or while they are waiting for their next course.  You can also incorporate this into your favors since they get to take home a copy of their photos already.

2).  If you're having an outdoor wedding, yard games!  There's giant Jenga, Connect Four, Corn Hole, Tic Tac Toe, Ring Toss, bowling, the options are endless!  Not only will this give your guests a memorable chance, but also a chance for them to open up easier and mingle with other guests.


3). The Newlywed/Shoe Game!  This is a hilarious game and a way for your guests to get to you know you as a couple more.  It's also a chance for them to see how well you really know each other.  

4). Have interactive food stations!  We've seen the candy bar time and time again, but how about a popcorn bar?!  Or taco bar?!  Mashed potato bar?!  So many options!

5).  Add some lounge furniture to your reception so your guests have somewhere to sit besides their dinner table.  This will also help to give your reception a chic ambiance.

6). Hire some unexpected performances!

8). Hire a local food truck!

9). Bring a professional cigar roller!

10).  Offer late night snacks!  After a night of dancing and drinking, your guests are bound to be hungry by the end of the night!  Our favorite is the In-N-Out Food Truck.  Yum!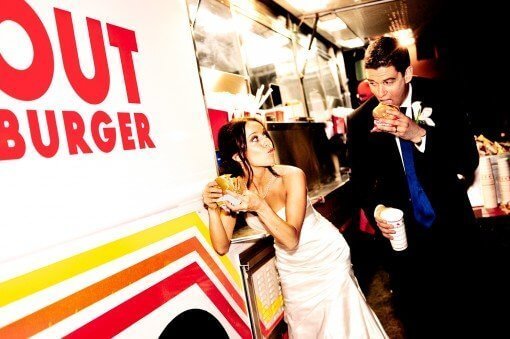 What are some of your favorite ways to make sure your guests have a great time?!
Credit: giphy.com, bridalguide.com, onefabday.com, theeverylastdetail.com, theknot.com, weddingsunveiledmagazine.com, huffingtonpost.com